Durable Custom Rubber Parts From Qualiform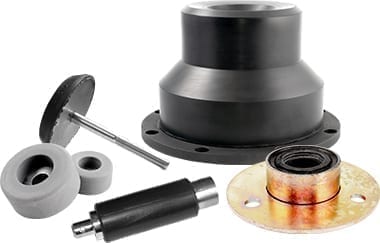 When using custom rubber to metal bonded parts for a project, the quality of the rubber molding and adhesion is critical to the success of the task. When you and your colleagues need top-quality customization, you can feel confident in counting on the dedicated team of rubber fabrication experts from Qualiform.
Wadsworth, Ohio's own Qualiform has earned a reputation as a go-to custom rubber molding resource for teams across the medical, agricultural, electrical, appliance and lawn and garden markets along with many other fields. With this in mind, you can learn more about the Qualiform team and its work by visiting the company website. Reach out to the team today to start moving forward with your next project.
Customizing Rubber to Metal Bonded Parts for Your Project
Does your next project require parts to be both flexible and stable? Do you need components that will help to minimize wear and tear, form seals or isolate vibration? Investing in reliable rubber to metal molding is critical to ensuring your components can withstand the stresses unique to the application at hand.
Teams often invest in custom rubber to metal bonding when customizing mounts or suspension components, for example. You may have collaborated with a rubber fabrication company to customize parts with one or more molding methods in the past, but be unfamiliar with the process of rubber to metal bonding.
What does the rubber to metal bonding sequence involve? First, a team of rubber fabricators must remove all contaminants and grease from a piece of metal to undergo the bonding process. Next, the fabricators use a heat-activated adhesive on the metal material and then set the component into a mold cavity once ready. Then, the team closes the mold and cures the rubber over the metal by the application of heat and activate the adhesive to start bonding.
When fabricators need to completely encapsulate custom rubber to metal bonded parts, a team of fabricators can implement rubber insert molding. This specific type of rubber to metal molding entails the suspension of a metal component inside a mold cavity for precise shaping and adhesion.

Have you and your team been planning to invest in custom rubber to metal bonded parts and trying to find the right value? If so, then you can count on the dedicated team of customization professionals from Qualiform to help you get the most out of your next project. Connect with the team from Qualiform today to start moving forward with your next shift in production.
Reach Out to the Team From Qualiform Today
When you need durable rubber to metal bonded parts, Qualiform Rubber Molding Company can provide the right design and durability. The Qualiform team takes great pride in offering direct collaboration with clients, leading manufacturing services and a superior value.
Is sustainable manufacturing a top priority for you and your colleagues? If so, then Qualiform could be the ideal partner company for you. Specifically, the Qualiform team allocates significant resources to green initiatives and works to keep rubber materials out of the world's landfills.
Different rubber materials stand up to different stresses in different ways. For this reason, the team of experts from Qualiform offers a complete selection of materials to suit nearly any project goal. To list, customers look to the Qualiform team for reliable customization of nitrile rubber, Viton, natural rubber, neoprene, EPDM and more. No matter the task at hand, the Qualiform team can fabricate the right material for the job.
Whether your next customization requires premier rubber extrusion, compression molding, injection molding, transfer molding or rubber to metal molding, Qualiform can help you and your colleagues meet the most specific project requirements. To find out how the rubber customization team could help you get going with your next project, simply visit https://qualiformrubbermolding.com/ today and take the next steps.