Choosing Premier Health & Safety Academy for EMT B Classes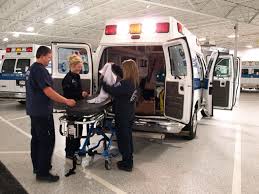 The hours are long, the level of uncertainty is significant and the stakes are high, but an EMT will answer the call and be the first on the scene. With the proper training, you could administer care to trauma victims, provide life-saving transportation and more. Are you up for the challenge? Have you been considering taking EMT B classes? EMT B classes from Premier Health & Safety Academy can help you get the strongest start possible to a new career.
To qualify for the Premier Health & Safety Academy EMT training course, students must be 18 years of age before course completion, have no criminal convictions, possess a valid driver's license, have a high school diploma or a GED and satisfy ORC 4765-8-01 requirements. Eligible participants must also have good moral character and the motivation to serve.
These classes provide comprehensive training in basic life support. In total, students will train for 170 hours, which includes 140 hours of didactic study, 6 hours of clinical work and 24 hours of a field internship.
Premier Health & Safety Academy is a go-to resource for prehospital care providers and providers in training from all over the Northeast Ohio community. Considering this, you can learn more about the Premier Health & Safety Academy team, available training courses, pricing and more by visiting the organization's website.
The Differences Between EMS Training Classifications in Ohio
You may know you want a career within the field of EMS, but be unfamiliar with the distinctions between the different certifications available within the state of Ohio. Different provider certificates suit different career goals and correspond to different scopes of responsibility and levels of education.
An Emergency Medical Responder (EMR) offers intervention while awaiting other EMS personnel to arrive at a scene. EMRs use limited amounts of equipment and provide basic life support assistance, often in rural areas. Of EMS providers in the state of Ohio, EMRs have the least amount of field time, field skills and comprehensive training
An Emergency Medical Technician (EMT) has received specific training to provide basic emergency services to patients experiencing trauma or an acute condition. Trauma assessment and response skills characterize EMTs and distinguish them from EMRs. When necessary, an EMT transports a patient to a designated medical facility. An EMT can also work under the direction of a physician in an emergency medical system.
Advanced Emergency Medical Technicians (AEMTs) are proficient in all EMT-level skills, but has also received additional training for more advanced care, such as intravenous fluid distribution and giving certain drugs.
The Paramedic certificate is the most advanced of those available. Paramedics offer the most intensive care of all EMS professionals and have advanced knowledge of airway control, intravenous fluid administration, heart attack management and more.
EMR and EMT B classes from Premier Health & Safety Academy make exceptional starting points for prehospital care providers and those in training to serve their communities in many EMS capacities.
Why Should You Study to Become an EMT?
While a career as an EMT can be intense, it can also be exceptionally rewarding. Why should you become an EMT? Being an EMT provides an excellent opportunity to help others. While the severity of each case can vary, you provide a tremendous service during every shift.
While some fields shift constantly, there will always be a demand for EMS professionals. If you want job security you can count on, then a role as an EMT may be right for you.
Becoming an EMT can also provide something different from the routine of the typical 9-5 job. While the role can get stressful, to say the least, there is no such thing as a typical day as an EMT.
Once you establish yourself as an EMT, you can access numerous opportunities to advance your career in the healthcare field. For example, an EMT position can make an excellent starting point in becoming a nurse or a doctor.
Studying for an EMT Certification Exam
The anticipation of your EMT exam can feel overwhelming. However, when you stick with a consistent plan for studying, you can get the most out of your training and minimize your stress as you prepare for your exam.
Don't be afraid to ask for help when you need it. When you ask your instructor questions when you do not understand something rather than staying quiet, you can save yourself a significant amount of frustration when it comes time to take your exam.
Make sure to not study too much material at any one time. Information overload will inhibit your ability to recall certain pieces of information and only lead to additional stress.
Many students often find group studying helpful. Forming positive relationships with your classmates can help to make the preparation process easier. However, you should find a balance between group work and individual study that feels comfortable for you and keeps you focused.
Be sure to show up to every class. Any instruction or field experience you miss can only hold you back, this is especially so for hands-on training. To avoid falling behind, be sure to make your training your priority.
EMTs in training have access to a diverse range of online practice tests, often at no cost. Whenever possible, you should take advantage of free online practice tests to evaluate your comprehension and its progress.

Connect With the Team From Premier Health & Safety Academy Today
If you want to make a difference with your work and start a career that is more than a career, then consider taking EMT B classes from Premier Health & Safety Academy. Premier Health & Safety Academy students learn more than just medical facts and procedures. They learn to become the most significant assets possible to their communities.
Whether you need to receive a medical certification for work or for school, you can count on the team from Premier Health & Safety Academy to help you take the next step in your professional or academic development. To find out about available training courses, class schedules and pricing, just visit https://phsaohio.org/ today.