G Force's Engine Stands are the Ideal Solution for Storage and Transportation
When it comes to making a transmission swap or any other kind of automotive upgrade, you need durable parts that can set your car up for years of use. For this reason, the technicians from Akron, Ohio's G Force Performance Products take great pride in offering performance components of the highest quality for the most dedicated automotive enthusiasts.
Have you been looking for reliable engine storage and transportation equipment? G Force Performance Products engine stands could provide your ideal solution. G Force is a top designer and manufacturer of crossmembers, transmission mounts, engine stands, and many other automotive components, and equipment. So, you can depend on them to provide the tools you need to reliably complete automotive projects.
The engine is most important aspect of any high-performance vehicle, so it requires the highest levels of care and attention. Car enthusiasts will spend copious amounts of time on their engines to ensure they are in optimal condition whether they are currently in a running build.
In fact, if you enjoy modifying cars, you likely recognize the need for proper care better than anyone. Storage and transportation of engines are central concerns for any car enthusiast, so using engine stands is a necessary part of any project.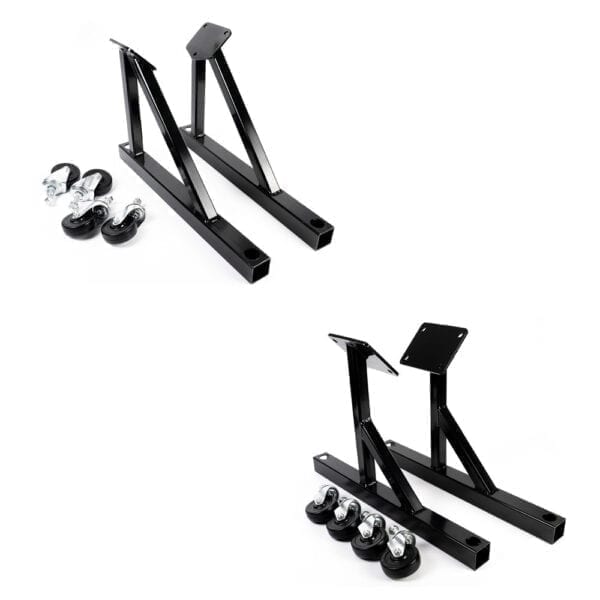 Uses of G Force Performance Products Engine Stands
Using engine stands to store or transport your engine is the perfect solution for ensuring your engines are protected from damage. Car enthusiasts prefer the G Force two-piece engine stand due to the incredibly stable design.
In fact, G Force Performance Products designs engine stands with a low center of gravity to offer superior balance. G Force Performance Products engine stands will also attach to the same location on the engine block as when you would bolt the motor into a car.
Furthermore, these durable engine stands allow you to perform assembly operations at the top of your engine more easily. However, they are not typically used for engine builds, repair, or maintenance because they are too low to the ground to work comfortably.
Common project examples
One of the most popular projects among G Force Performance Products customers is engine conversions. Engine conversions can are uniquely complex and time-consuming projects, so they usually require the use of storage for the engine. Therefore, car enthusiasts look to G Force Performance Products for stable storage options.
G Force Performance Products now offers exclusive LS engine stands as well as Big Block (BBC) and Small Block Chevy (SBC) stands. G Force chose these engines due to their popularity among their customers for engine conversion projects.
Convenient Engine Transportation
G Force designs its engine stands to be incredibly lightweight and packages them with four removable casters. As a result, transporting your engine is safer, easier, and less time-consuming. Furthermore, these engine stands offer superior balance and stability for the transportation of your motors from one position to another when detached.
This stand will also protect the engine in the event of an accidental drop without the casters. G Force Performance Products stands offer an 850 lb. load rating, so your LS or SBC engine has the support it needs for any transportation or storage. This new design is also compatible with most oversized oil pans.
Another advantage of the company's unique, two-piece design is that you can store your stands without using up excessive shelf space. So, you can maximize your garages store space, while the stands black powder finish keeps it in top condition for many years after purchase.
Engine Storage Tips
When it comes to keeping your engine in top shape, consistent storage is key. See below for some storage tips from G Force Performance Products.
If your engine is in running order, then make sure the oil is clean prior to storage. You should also remove spark plugs and add light oil to the cylinders. When doing this, you should rotate the engine a few times and replace the spark plugs and tighten.
It is also critical to ensure the antifreeze is still effective. If you are in doubt, then you should replace it. You should also be sure to cover or plug all openings to prevent animals from entering and dirt from accumulating.
You should also drape your engine with a breathable covering to keep it clean. Connect with the G Force Performance Products team today to learn more.
Engine storage designed by industry experts
Engine stands are the ideal solution for making long term storage and transportation of your engines safer and easier. When you choose G Force Performance Products, you receive a stand designed by industry experts that offers exceptional stability. The removable casters also provide the versatility for functional transportation and storing your engine as long as necessary.
Contact G Force Performance Products today to learn more about their LS and SBC engine stands and other quality automotive components, or visit the G Force Performance Products company website for more information on our new engine stands.
About G Force Performance Products | Engine Stands
G Force Performance Products specializes in the design and manufacturing of automotive components and accessories. They offer unparalleled experience in creating the ideal parts and equipment for any project. Since the company introduced its patented transmission crossmember, the G Force Performance Products team has dedicated its resources to developing the best products for the needs of the automotive enthusiast. Most notably, the company's innovative, high-quality designs have earned the team a reputation for offering the finest products on the market, positioning them as the leading provider of automotive transmission crossmembers, flywheels, and accessories.
In fact, G Force Performance Products is a pioneer in the development of effective automotive solutions. Hobbyists and dedicated automotive professionals alike depend on G Force Performace Products for flywheels, crossmembers, bellhousing adapters, exhaust components, and many other products. So, you know you can rely on their expertise to fulfill your automotive needs.
Learn more about engine stands and more from G Force Performance Products by contacting the team at (330) 753-5300 or visiting the company's website https://www.crossmembers.com/.