Z32 & Z33 Nissan Transmission Spacer Plate
When planning a transmission swap or any other automotive upgrade, it is essential to invest in the most durable components for the job. The most dedicated automotive hobbyists look to Akron, Ohio's G Force Performance Products for high-quality parts. 
Are you looking for a transmission spacer plate for your engine swap project? Consider G Force's Z32 & Z33 Nissan Transmission Spacer Plate. G Force Performance Products is a leading manufacturer of crossmembers as well as many other automotive components and accessories, so they can give you the tools you need to perform successful vehicle modifications. One of the main advantages of our transmission spacer plate is that is works with any series of LS, LSX, and Vortec motors.
However, there are some differences to consider between these motors. The 1999-2000 LQ4 series of Vortec engines, for example, have longer crankshafts. In fact, it is .4 inches longer than the subsequent models.
These crankshafts will not work with G Force Performance Products adapter plates without an LQ4 spacer plate. Therefore, if your vehicle has an early gen LQ4 with an extended crankshaft, you need the LQ4 spacer plate. To learn more, reach out to the team of experts from G Force Performance Products today. 

Do you need this transmission spacer plate?
Do you have an LQ4 or LQ9?
The first step in finding out whether you need this durable transmission spacer plate is determining the dimensions of your Vortec engine. If you are unsure whether you have an LQ4 or LQ9, there's a simple way to figure it out. Remember, the LQ4 motor is the only engine to have a shortened crankshaft.
However, despite that fact, the LQ4 and LQ9 are nearly the same with the exception of the piston geometry. When determining which motor you have, check the casting marks on the motorhead. LQ4 motors will have 317 stamped onto the motorhead, while the LQ9 has 035. If it turns out you have an LQ9, you will not need the G Force Performance Products transmission spacer plate.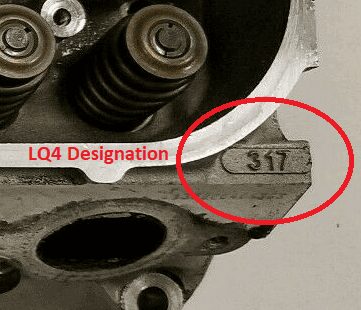 Designation by Vehicle
Distinguishing between two engine models is relatively simple. Figuring out the year of your LQ4, however, isn't as easy. In fact, the casting numbers of the motorheads of LQ4s are the same between 1999 and 2000. Therefore, these numbers are useless in determining the model year.
However, you can use the car you acquired the LQ4 from to determine the year. There were only three cars that this motor was implemented, so this can be a quick solution if you have the information on hand. Visit the G Force Performance Products website to learn more.
Designation by Inspection
Given that the casting numbers for both shortened and extended crankshafts are identical, if you are not aware of which vehicle your motor came from, a visual inspection is the only method for determining the exact dimensions.
Are you Planning an LS Conversion?
If you are planning to perform an LS engine conversion, G Force Performance can make your project a much simpler process. Their Z33 350z and Z32 300zx LS Conversion kits offer easy installation and competitive pricing, so you can perform your LS conversion with reliable products in your budget.
A G Force Performance Products LS conversion kit includes a custom steel flywheel, a 3/8 steel adapter plate with a powder-coated finish, pilot bushing, adapter and mounting hardware. The Z33 350Z kit includes a Hi-Torque Starter Adapter. If purchasing the Z33 350Z kit, you can use your current Hi-Torque Mini Starter or purchase one separately. Connect with the team today to learn more.
Transmission Spacer Plate | G Force Performance Products
When you need a transmission spacer plate or other parts, count on G Force Performance Products. The company is a leading manufacturer of transmission crossmembers. Whether you are searching for an upgrade from stock components or parts for an engine swap, G Force Performance offers flywheels, crossmembers, bellhousing adapters, and exhaust parts as well as conversion parts for small-block Chevy, LS-family, and Ford V8 engines and transmissions.
G Force Performance specializes in the production of various automotive parts and accessories. They work to give automotive enthusiasts the tools and components they need to perform successful engine conversions and other projects. As a result, G Force Performance has become a leader in the manufacturing of transmission crossmembers, flywheels, and other automotive accessories.
Learn more about the G Force Performance Products transmission spacer plate by visiting the company https://www.crossmembers.com/ today.