Choose the Best Basement Flooring
If you have concerns about your concrete basement flooring, it's time to think about something new. Concrete flooring can create a host of problems, even if you can't see it. 
Concrete basements are very prone to moisture, and if you live in Ohio, you know how humid the summers get. The humid air sinks to your basement and creates condensation. So even if your flooring looks fine on the surface, mold and mildew can grow beneath, creating serious problems. In the worst cases this can lead to deterioration of the flooring and cause a major headache.
One of the common "solutions" that is marketed to those looking for new basement flooring is natural stone flooring. This flooring is usually described as a cheaper, better option than other types of basement flooring. But that's not the full story.
Natural stone flooring has a texture that results in more maintenance, which means higher costs down the road. The cleaning for this type of flooring is difficult and takes a lot of time, and with Ohio's constantly changing weather, this can be a serious problem. Plus, just like with concrete flooring, mold and mildew still often build up.
So if you're thinking about new basement flooring, let's talk about polyaspartic epoxy flooring.
Basement Flooring That Lasts
Polyaspartic epoxy flooring is offered by Ohio Garage Interiors, a family-owned and operated company. This type of flooring is built to last and is extremely low maintenance. What epoxy coating does is seal the surface of the flooring to avoid moisture getting in.
In addition, epoxy flooring is slip-resistant and is not penetrable by dirt and stains. The cleaning process is quick and easy and fights against any potential hazards created due to Ohio weather conditions. Plus, Ohio Garage Interiors lets you customize your epoxy flooring. Just because the product is built to last, doesn't mean you can't get creative with your design.
You can choose from solid color options or decorative flake design, which offers a host of different shapes, sizes, and patterns. This is truly a home makeover. Not only are you getting an efficient, long-term solution to your flooring needs, but you can also create a space for all to enjoy. 
It can be tempting to try a DIY solution to basement flooring, but don't be fooled. Though upfront it might seem cheaper, the costs you'll accumulate from extra maintenance will make up for it. Plus, when you go with a team of professionals, you'll get great advice on how to keep up your flooring, and you can trust you're getting the best materials in the business. 
Ready to get started? Contact Ohio Garage Interiors Today.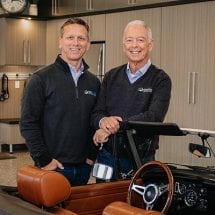 Go With Ohio Garage Interiors
Ohio Garage Interiors has served Ohio for decades with the best in flooring. Their team offers basement flooring, garage flooring, commercial flooring, and more. For years, they've worked to perfect their materials and installation process to offer the best in the business.
OGI doesn't rush to complete a flooring project. Many other companies will boast a one-day solution, but don't let that catch you off guard. Instead of doing a sloppy job, OGI takes two days to complete their flooring installations to give the epoxy enough time to seal. This is truly a solution that's built to last.
You deserve to be confident in your basement flooring, which is why OGI offers free quotes. Contact them and set up an at-home inspection, where an OGI member will assess your space and give you a quote. 
Don't pass up an opportunity to have your dream floor and give your home a makeover with epoxy flooring. Visit https://ohiogarageinteriors.com/ to learn more.