Choose Epoxy Garage Flooring and Turn Your Garage Into a Showroom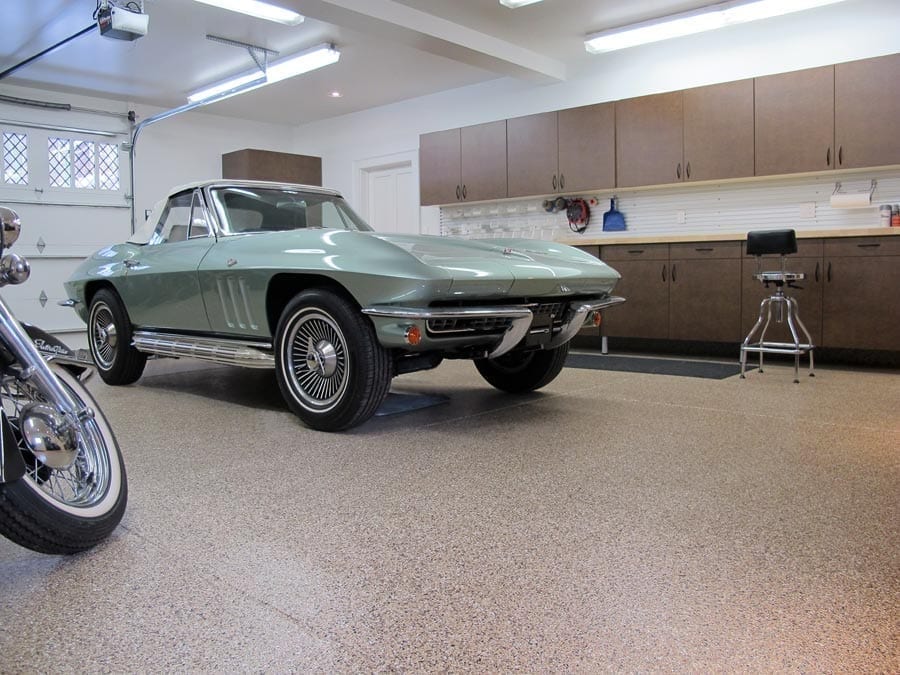 Have you been wanting a space to show off your new convertible or enjoy your auto restoration hobby? When you add epoxy flooring to your space, you can turn your garage into a showroom. Epoxy garage flooring can provide just what you need to replicate the set of your favorite classic car television show or create a space all your own.
Homeowners from all over the Cleveland, Akron and Lake Erie Islands communities count on the team from Ohio Garage Interiors for stunning home transformations. You can depend on the team to customize a garage showroom floor with the ideal look and function for your space. With this in mind, you can learn more about the Ohio Garage Interiors team and its work by visiting the company website.
Offering What Concrete Alone Cannot
How is it an epoxy garage floor coating can complete a space in a way that plain concrete cannot? Epoxy garage floor coatings add a distinct element to a space by making maintenance easier, improving the aesthetics of the garage and even improving safety.
Water on cement floors presents serious safety hazards. However, you can minimize slip risks and ensure traction by implementing an epoxy garage floor coating.
Cement floors contain numerous pits and cracks and are particularly vulnerable to staining and the buildup of dirt. Discoloration and expanding breaks in a concrete garage floor can become unsightly and frustrating.
However, epoxy garage floors are nonporous and resistant to the accumulation of debris. To clean, simply give your floor a quick sweeping once per week and address messes by using a mop and mild cleaning solution. Spot treatment is as easy as using the same cleaning solution and a soft cloth or paper towel.
If you want a complete transformation of your space, then an epoxy floor could turn your garage into a showroom. Epoxy garage floors can accommodate a diverse range of custom colors, decorative flake blends, metallic look finishes and so much more.
Ohio Garage Interiors customers, in particular, have access to nearly endless options for floor customization. Homeowners can transform their spaces with DecoFlake, Organic Mica, solid and metallic options. Whether you want to go for a neutral aesthetic or match colors to your motorcycle or your favorite sports team, you can count on Ohio Garage Interiors to customize the right look for your space.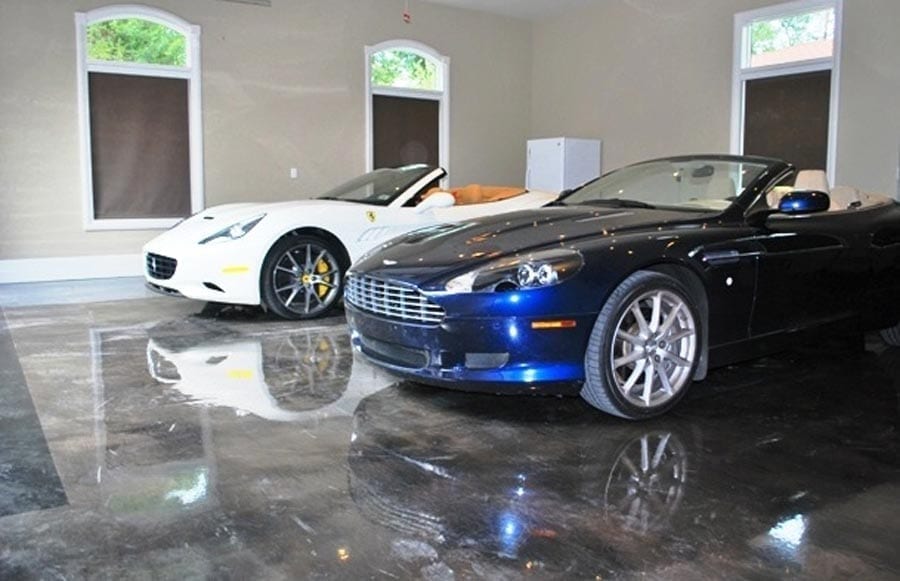 Preparing for the Epoxy Garage Floor Installation Process
An epoxy garage floor may complete a home improvement project, but to truly turn your garage into a showroom, preparing your space before the installation process is critical. First, be sure to get rid of any clutter that you may have in your garage and sort things to determine which are best to keep in your garage, sell, give to charity, or throw away.
Next, clean your space thoroughly and make sure any doors, windows or other fixtures in your garage work properly. Then, account for your garage's current storage setup. Do you already have ample cabinetry or shelving or do you plan to customize a new system? Will you need to purchase any containers?
Taking the time to prepare before your floor installation can help you get the most out of your showroom garage floor transformation and reflect your home improvement vision.
Why Partner With Professionals to Customize a Garage Showroom Floor?
You have probably seen the videos all over the internet showing fast and easy DIY installations of epoxy garage floors. It's easy to get inspired after seeing all of the bright colors, metallic finishes and striking swirls.
While the finished products may look good at the end of these videos, taking on a DIY epoxy floor installation project can come with significant repair costs and frustration in the long run. While retailers often offer DIY epoxy garage floor installation materials at great deals, using commercially available kits can leave a finished product at critical risk for peeling, delamination and other kinds of damage.
To avoid the frustration that comes with repairing a DIY-installed floor, it is best to partner with a team of experienced installers. Even if the starting cost of a professional installation is greater than that of a DIY project, teaming up with experts will provide the right value. An installation company has access to the most reliable materials and the expertise to install for precision, thoroughness and the right look.
You can count on the professionals from Ohio Garage Interiors for reliable installation and the right results. The team uses an exclusive accelerated combination of professional-grade floor epoxy and a hybrid polymer.
For most homeowners, a professionally-installed epoxy garage floor coating can look and perform like new for ten years or more, in comparison to a DIY garage floor coating that will probably start to degrade after about two or three years following installation. The finished product is four times stronger than alternative epoxy coatings and is also more flexible than competing solutions.
Following professional installation, maintaining your floors regularly is critical to maintaining your investment. You can keep your epoxy garage floor looking newer for longer by avoiding citrus-based cleaners and vinegar, as they are highly acidic and can wear a glossy coating away. You should also avoid applying soap to epoxy garage floors as it can leave streak marks and create a slippery surface. For heavy stains, it is helpful to keep both rust remover and grease remover available.
Reach Out to the Team From Ohio Garage Interiors Today
Are you ready to turn your garage into a showroom? When you choose Ohio Garage Interiors for your home transformation, you can achieve a garage showroom floor and set up your space for years of function and enjoyment. You can depend on the dedicated installation team from Ohio Garage Interiors for the right value and the right materials.
When you're after a striking customization and need a reliable installation team, you can feel confident in counting on the professionals from Ohio Garage Interiors. Connect with the team and visit https://ohiogarageinteriors.com/ today to find out more and get your next project going.