Butech Bliss has over 135 years of experience designing, manufacturing, and installing the world's highest roller leveling cut-to-length lines, stretch leveling cut-to-length lines, temper mill cut-to-length lines, coil slitting, multi-blanking, and push-pull pickling lines to help service centers and toll processors have a more productive workday. Butech Bliss strives to be the only stop you make when it comes to metal forming equipment.
Why Butech is #1 for Coil Cut-to-Length-Line
The patented technology at Butech Bliss is used to process hot and cold rolled carbon steel, stainless steel, and other applications for non-ferrous metals. As a top name in rolling mill equipment manufacturers and steel processing machinery, Butech Bliss produces the only cut to length line machines you need.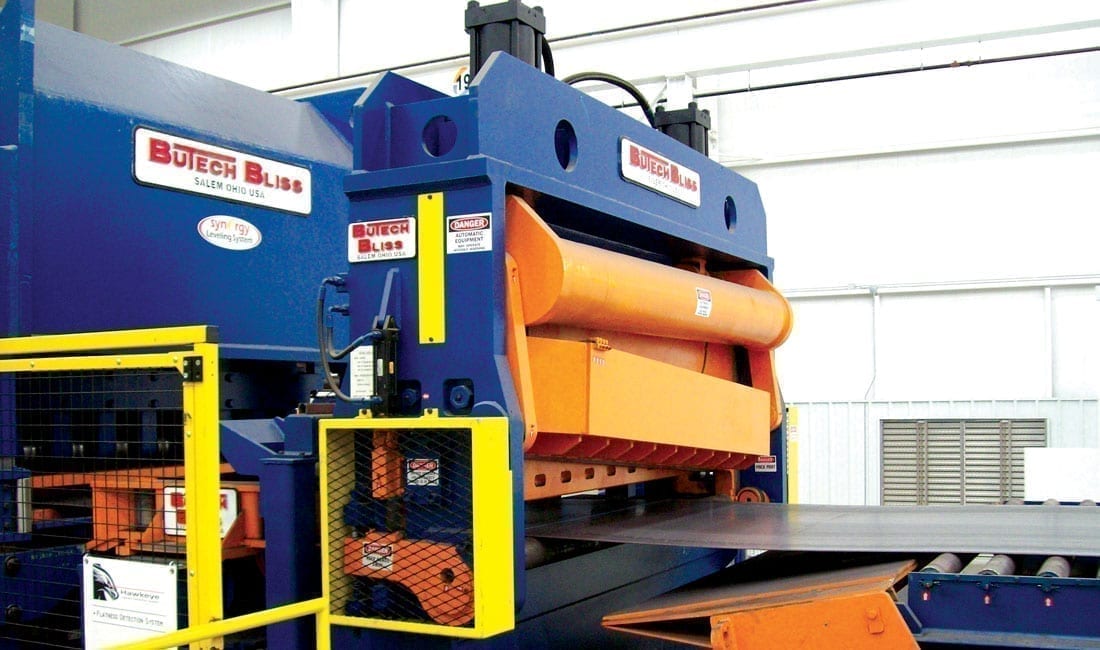 Common applications include individually driven work rolls which offer several advantages when compared to other drive systems. These advantages include:
 The ability to create inter-roll tension
 The ability to continue running should a particular motor or gear reducer fail
Reduced spares inventory cost because each roll is driven by a common fractional horsepower motor and gear reducer when compared to a single motor, reducer, and pinion arrangement.
About Butech Bliss's Innovative Cut-to-Length Line Products
Butech Bliss designs and builds Stretch Level Cut-to-length Coil Lines for every customer's unique and specific requirements. Whether you are looking for a discrete plate stretcher or a coil-to-sheet stretcher we have the engineering capabilities to meet your needs. Butech Bliss has supplied over 150 Stretch Levelers for processing everything from aluminum plates for the aircraft industry, to extruded products, treadmill plates, hot-rolled, HRPO and cold rolled steels including low carbon and high strength steels.
Their stretch leveling cut-to-length lines include gripper heads specifically designed for your specific needs. Some include a replaceable, economically priced, commercially available gripper pad that allows the changeover between various products without the need for downtime to clean or replace the gripper head assemblies. Some include a metallic gripper, and some include interchangeable gripper heads so either type of head can be used in the same stretcher, providing additional value to your Butech Bliss products.
3 Reasons Butech Bliss Should be your First and Only Choice
Butech was formed by John Buta in 1985. Today, John Buta is president of the combined company known as Butech Bliss. When Butech started up in the mid-1980s, all they had was a small manufacturing shop and focused on developing some innovative machine technologies for the metals industry. Over the years Butech became a world-renowned supplier of scrap choppers, side trimmers, shears, and hydraulic roller levelers. Their innovation in the industry has allowed them to become one of the best at what they do in North America.
When you work with Butech Bliss as your cut-to-length line supplier, you can know that you're getting the best products on the market.
Butech Bliss's field Service and customer service is unmatched! You can rest assured knowing that your investment is protected by people that care.
When you trust Butech Bliss, you only have to make the purchase once. You'll never sacrifice quality in your metal-forming machinery, and you'll skip the hassle of costly repairs that can come from the wrong machine.
Leading the Industry for Over a Century
Butech and Bliss were previously separate manufacturers. Once Butech and Bliss joined forces, they were able to expand to include more than 75 machining centers, continually investing in new equipment to be the most efficient equipment builders in the industry. If you're ready to work with the Cadillac of metal forming machinery, visit https://www.butechbliss.com/ to boost your metal forming production and grow your success.